Spindle Replacement Program: magped ENDURO
magped prides itself in its commitment to ongoing quality control for all its products. Despite having over 10,000 magped ENDUROS in use by riders around the world today, without any instances of a pedal spindle (axle) failure, it is our responsibility to inform you that one batch of our magped ENDURO models may not meet the quality requirements for the durability of the pedal axles. For this reason, a preventative spindle replacement program is being initiated.
Please note that the magped one year warranty is not affected by this preventative replacement program. magped will continue to replace any defective product anytime during the warranty period should you have any issues.
Affected pedals:
magped ENDURO 150 / 200 with the imprint "Engineered in Austria" delivered between July 2020 and May 2021.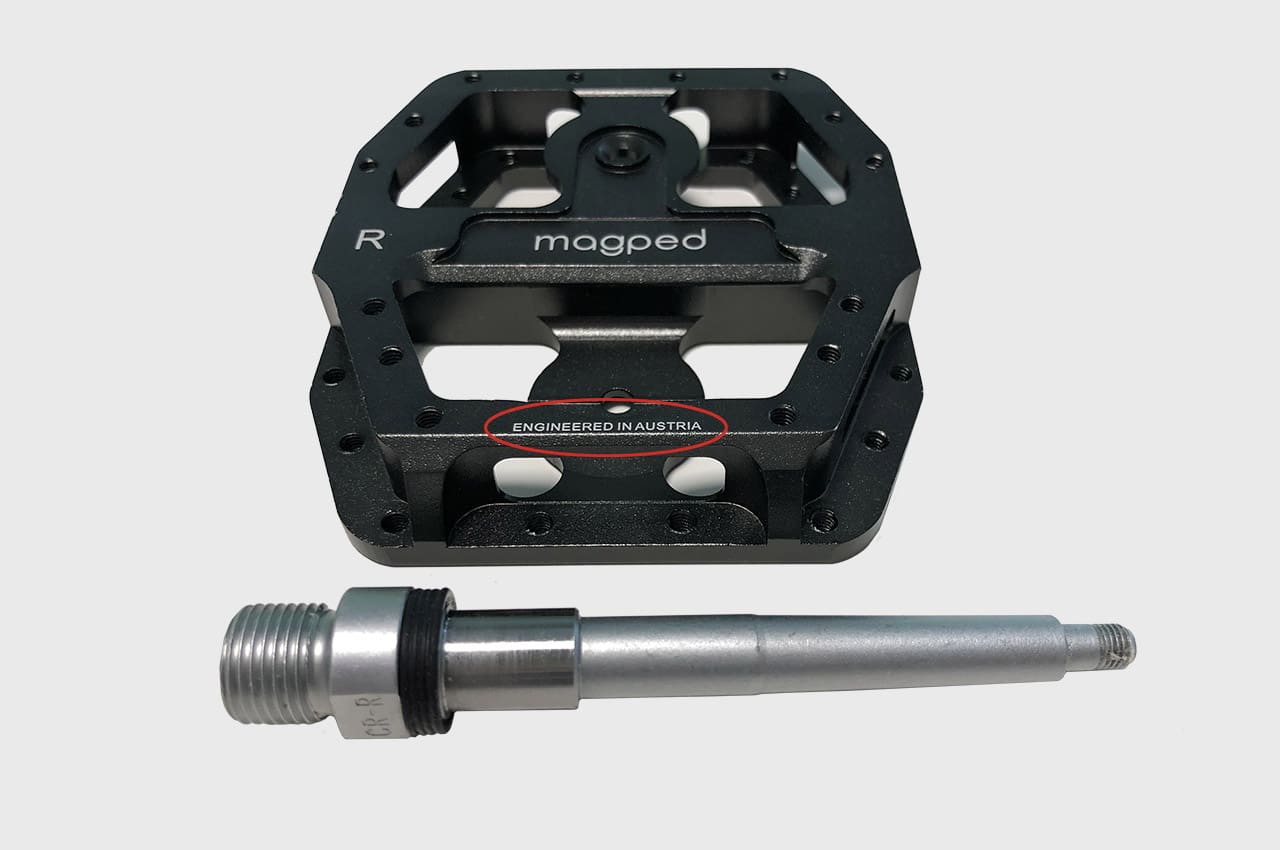 Next steps
You have two options to address the axle issues:
1. Quickest solution | Receive replacement axles and fix the pedals yourself 
magped will ship a free a set of replacement axles to change yourself in the next 4-6 weeks. This option should only be chosen by persons who are experienced in maintaining light bicycle parts.  Instructions can be found here:  https://www.youtube.com/watch?v=_7dwWczmtcc.
To receive the replacement axles, please send an email to rick@magped.us with
Subject: ENDURO Spindle Replacement
And include your name, mailing address, phone number and email.
2. Recommended | Return the pedals to magped North America for free inspection, overhaul and free return shipment. 
Address to ship the pedals back to:
Magped NA
12430 Arbutus Landing Road
Madeira ParkBritish
ColumbiaCanada, V0N 2H1
Please include a note with your name, mailing address, email and phone number. For USA customers, please also ensure you write on the parcel: "Return to Manufacturer for Repair" to avoid customs duty and tax issues. We expect to have the new spindles in stock by mid July 2021 so early deliveries prior to this time will have to wait until the spindles arrive.
Thank you for your understanding
As a manufacturer of innovative magnetic bike pedals designed to increase safety, we are committed to ensuring the highest quality product and we apologize for any inconvenience caused by this preventative spindle replacement program.
Best regards,
Magped NA